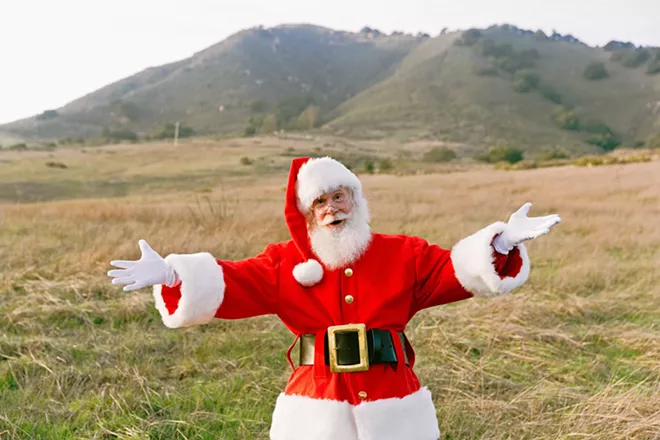 Photo Courtesy Of Slo Santa
NAUGHTY OR NICE? Santa Cecil is available for live events, video calls, personal letters, and more. Check out slosantaclaus.com.
Photo Courtesy Of Cal Poly College Of Agriculture, Food And Environmental Sciences
HOLIDAY TEAMWORKCal Poly Meats purchases commercial pigs from the Cal Poly Swine Unit to produce holiday hams. Proceeds from pig and ham sales go back into both departments to boost hands-on learning.
Photo Courtesy Of The Junk Girls
ONE OF A KIND The Junk Girls on Monterey Street in SLO expects a busy holiday season, but owner Jenny Kompolt said her store's largely handmade selection will help avoid some of the supply chain issues that many other businesses are tackling.
Photo Courtesy Of Stephen Heraldo For Downtown SLO
HOLIDAY SPIRIT The SLO Holiday Parade (pictured) returns on Dec. 3—with a few changes—after being canceled last year due to COVID-19.
Photo Courtesy Of Art Central
Crafty Christmas: Art Central in SLO presents its annual Holiday Art Exhibition, Little Treasures, which debuts on Friday, Dec. 3, and is scheduled to remain on display through Monday, Jan. 31, 2022. The show features artworks of various media, which are also available for sale as holiday gifts (prices vary, no higher than $100). All pieces were created by local artists. Call (805) 747-4200 or visit artcentralslo.com for more info. Art Central is located at 1329 Monterey St., San Luis Obispo. Pictured: holiday ornaments by Kenny Standhardt.
Photo Courtesy Of The Clark Center For The Performing Arts
Winter waltz Everybody Can Dance and the Santa Maria Civic Ballet presents Diane Rose Zink's 35th annual Nutcracker production at the Clark Center for the Performing Arts on Saturday, Nov. 27, at 7 p.m., and Sunday, Nov. 28, at 3 p.m. Audience members are required to wear masks during the show. Admission is $25 for adults and $20 for children. Visit clarkcenter.org for more info. The venue is located at 487 Fair Oaks Ave., Arroyo Grande.
Photo Courtesy Of Larry Le Brane
Who'll stop the reindeer? Costa Gallery in Los Osos is currently featuring a selection of local artist Larry Le Brane's fused glass reindeer (pictured) and holiday-themed dishware, through Friday, Dec. 31. For more info on Le Brane, who also frequently hosts local classes on fused glass art, visit facebook.com/larry.lebrane. Costa Gallery is located at 2087 10th St., Los Osos.
Photo Courtesy Of The Artery
Blizzard wizards: The ARTery in Atascadero hosts a felting workshop, Needle Felted Snowmen: Sculpting with Wool, on Saturday, Dec. 18, from 4 to 6 p.m. Attendees will learn the basics of felting and will craft their own felted snowmen. The class is recommended for ages 16 and older. Admission is $45. Call (805) 464-0533 or visit the1artery.com for more info. The ARTery is located at 5890 Traffic Way, Atascadero.
Photo Courtesy Of Miranda Beal
Harmonious holiday The second annual Harmony Christmas Market takes place on Saturday, Dec. 4, from 11 a.m. to 4 p.m. This open-air market features a variety of local vendors and food trucks, including Harmony Valley Creamery's ice cream truck (pictured). A wide selection of locally made holiday gifts will also be available for sale. For more info on the event, visit instagram.com/townofharmony.
Photo Courtesy Of Cass Winery And Vineyard
Deck the dining hall Cass Winery and Vineyard in Paso Robles hosts its Holiday Estate Beef Winemaker Dinner on Friday, Dec. 10, from 5:30 to 8:30 p.m. Guests will enjoy a five-course prime rib dinner, paired with a selection of award-winning wines. Tickets to the dinner are available in advance at my805tix.com. Call (805) 239-1730 or visit casswines.com for more info. The winery is located at 7350 Linne Road, Paso Robles.
Photo Courtesy Of Slo Santa