View a slideshow from the 2015 New Times Music Awards.
It's Friday, Sept. 25, and the Fremont Theatre did everything but roll out a red carpet for the seventh annual New Times Music Awards, which has drawn more than 400 fans to the art deco auditorium.
The air is abuzz as artists and fans mill about the lobby enjoying local wines and beer from BarrelHouse Brewing Company. People pose for photos in front of the NTMA photo backdrop or peruse the merch table filled with New Times and artist swag as well as the donated Ernie Ball guitar being raffled off.
Forever Stoked has a booth filled with paintings, while art collective member Charlie Clingman starts a new canvas near the stage, which he works on throughout the night, offering a live painting demonstration.
Youth percussion group The Bucket Busters opens the show, warming the crowd with their tight, rhythmic gymnastics. Co-emcees Pepper Daniels and Korie Newman introduce performers and hand out awards, and the genre winners take the stage, each hoping to add to their prestige with the Best Live Band award.
Several hours later, after the competitors have done their best, special guest Kenny Lee Lewis of the Steve Miller Band wows the crowd with a short but amazing set as the live music judges sort through their tally sheets to determine the best live performance.
In the end, the phat and sassy sounds of Captain Nasty prove unstoppable, and the ensemble takes the stage to collect their Newtie Award.
The crowd spills out of the Fremont, reminded once again of the breadth of local music talent. Congratulations to all, and thanks for supporting live music, SLO County!
click to enlarge
THE KIDS ARE ALL RIGHT Music Motive owner and drum teacher Steve Hilstein (far right) puts his youth percussion group The Bucket Busters through their paces during the opening ceremonies.
click to enlarge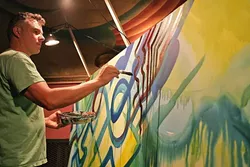 LIVE ART Charlie Clingman of the artist collective Forever Stoked creates a large-scale painting during the event. He also donated a smaller painting to the silent auction that benefits youth percussion group The Bucket Busters.
click to enlarge
WITH FEELING Wynn, who won best hip-hop artist, puts his heart and soul into his set.
click to enlarge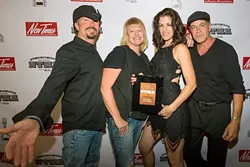 ROCK STARS Lu Lu and the Cowtippers (left to right—Steve Eddy, Michael Antonette, Donna Lu Meazell, and Tyler Mitchell) strike a pose in celebration of their third place win in the Rock/Alternative genre.
click to enlarge
SONGWRITER Greg "Spanky" Baldwin, 52, a longtime musician who didn't write his first song until he was 50, took first place as Best Songwriter for "Rings of Gold."
click to enlarge
BRING IT Funk act Captain Nasty, who won in the Open genre, delivered an amazing set that led to them being crowned Best Live Band.
click to enlarge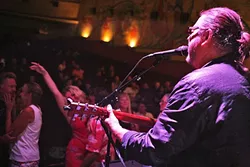 SHINING STAR Kenny Lee Lewis—longtime bassist, guitarist, and songwriter for the Steve Miller Band—was this year's special guest, playing a short but spellbinding set to the crowd.
click to enlarge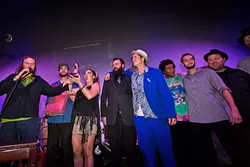 BLING Captain Nasty collects their special "blinged out" Newtie Award for Best Live Band.
click to enlarge
PHILANTHROPIST JG King was the high bidder on the donated painting by Forever Stoked, taking home a great surf seascape and supporting The Bucket Busters in the process.
click to enlarge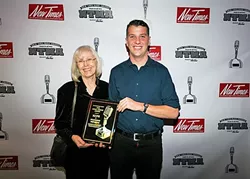 LOCAL LEGEND AWARD New this year is the Local Legend Award, presented to KCPR and its founding members of Cal Poly radio station KCPR, with Pam Logan, widow of original KCPR DJ Frank Calabrese, and current KCPR station General Manager Steven Pardo accepting.
Glen Starkey takes a beating and keeps on bleating. Keep up with him via twitter at twitter.com/glenstarkey, friend him at facebook.com/glenstarkey, or contact him at gstarkey@newtimesslo.com.