Steamers of Pismo's Bird of Paradise Cocktail
click to enlarge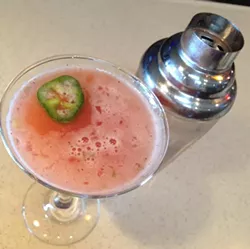 Steamers of Pismo floor and bar manager Jay Britton is an artist. He does not wield paintbrush or pen, preferring instead the methodical swish of a stainless steel cocktail shaker filled with ice, top-shelf booze, and fresh, creative springs of this or that magical element. My hairdresser and friend Curtis Campbell of Faces a la Mode in San Luis Obispo (he deserves a shout-out, and he's also excellent with beardscaping, boys) has been raving about Jay's cocktail-crafting abilities for months now. Lounging at the well-stocked bar overlooking what might be the largest coastal view in the area (it spans about 30 miles, according to Britton), I expected something really grand. And I got it. And then I got a little more.
See: When you order a cocktail at Steamers, you don't just receive one measly old glass of hooch. You also get the rest of what's inside that gleaming cocktail shaker. The experience reminded me of going to '50s diners as a kid and slurping down that "extra chocolate malt love" left over in the cold, stainless steel cup. So, what was left over in that satisfying extra pour? A superb mix of Absolut Cilantro Vodka, fresh muddled jalapeno, lip-smacking lime juice, freshly prepared strawberry mango gastrique, house-squeezed lemonade, and a sweet dash of pineapple juice. The overall taste was not saccharine or too spicy, coating my tongue in an enticing heat that finished with a refreshing citrus tang. This award-winning drink has already earned the coveted spot of "most popular summer cocktail" at the time-tested seafood joint. I recommend ordering a $5 happy hour plate of grilled salmon, oysters, or spicy ahi poke at the bar and watching the master do his magic.
• Bird of Paradise Cocktail, about $9 (Happy Hour: Sunday through Thursday 3 to 7 p.m. and 3 to 6 p.m. Friday and Saturday); 1601 Price St., Pismo Beach.


Kelsey See Canyon Vineyards & Winery's 2011 Golden Delicious
There is only one place where you can ooh and ah over the sight of a baby peacock and its mother while sipping wine enlivened with the essence of a crisp See Canyon Golden Delicious apple. Have I been specific enough? I recently returned to old favorite Kelsey See Canyon Vineyards while entertaining my Bay Area sister. Fresh from the train station, we basked in the warm, Avila Beach breeze and marveled at the bright golden color glowing within our glasses. Their 2011 Golden Delicious, a mix of half Chardonnay and half Golden Delicious apple juice, is the perfect "pre wine" to kick off an afternoon of serious tasting. As summer wraps up, why not substitute basic white wine white spritzer for something a bit more fruity and playful? Pairs well with bare feet in fresh grass, juicy girl talk, and bright pink sunsets. Oh yeah, and peacocks.
• 2011 Golden Delicious, $22 per bottle (or pay $8 for six tastings); 1947 See Canyon Road, San Luis Obispo.

Hayley is picking backyard oranges while chickens Loretta and Moxie look very confused by the whole situation at hthomas@newtimesslo.com.