By the year 1939, the Underwood Typewriter Company of NYC had produced oodles of typewriters—so many, in fact (or fiction), that to hear a single key clacked by all 5 million simultaneously would render you instantly deaf. But one of those unassuming typewriters—a shiny, black 1938 model—was bound to be used for more than typing.
It's hard to know whose fingers actually pressed the keys of this particular typewriter or what that person may have written (drafts of an unfinished novel? Lurid love letters?). It may have even sat unused in a closet while technology surged forward. All that really matters is that nearly 80 years later, the well-made hunk of metal found its way into the hands of sculptor Courtney Brown.
Would you like to know just what Brown chose to do with this old relic? Stop by SLOMA's California Sculpture SLAM, running through Nov. 15. There, surrounded by human forms, strange cityscapes, and architectural wonders, you can catch a glimpse of the Oakland artist's shiny, black masterpiece.
Curling tentacles billow from the 1938 typewriter frame, each adorned with gilded Octopus-like suckers. Titled Self Organization, the work speaks to an inner creative chaos all artists will likely understand.
"She's a very young woman and [it's] the first time this piece has been shown," said California Sculpture SLAM Chair Lucie Ryan. "It shows what happens when a machine gets too smart, how it wants an identity—but it also shows the artist's frustration of finding her own identity."
The sculpture took first place in the SLAM, which features more than 20 premiere artists from across the state. The show was juried by Oakland's Bella Feldman, whose pieces Angst 2 and Angst 3 are also on display in all of their spikey glory.
"As a fine craftsperson, she's going to demand that the work [in the exhibit] be very high quality and presentation of construction," Ryan said. "This show isn't so much conceptual as it is sculptural. Bella likes work that has been created physically. She's also got quite a sense of humor, and some of these pieces are kind of funny."
During my afternoon at SLOMA, I found that the typewriter wasn't the only showstopper of the bunch. In fact, I found myself pondering every piece I encountered—from LA artist Laura Larson's somber bronze critters dressed in Biblical era attire to Paso Robles artist Robert Schuerman's Nicola Tesla's Tea Ionizer, featuring a tea kettle, coiled stove burners, and well-placed orange lighting.
Burden, created by John Leighton of La Habra Heights is particularly moving—and a photograph does not do it justice. The faceless form is slumped over as if trudging through the snow. Meanwhile, heavy weights dangle in mid-air.
"I'm most drawn to the piece—I don't know why," Ryan said. "I can just feel it in my body; what it would be like to carry that load."
Hayley Thomas is working on a sculpture of her dog Mavis at hthomas@newtimesslo.com.
click to enlarge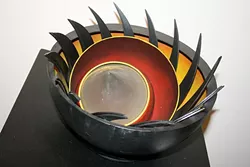 click to enlarge